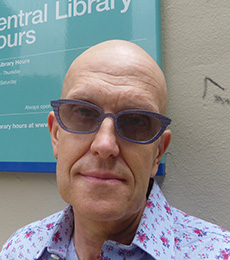 Dr. Ian Barnard
Pronouns: they/them/their
Professor
Director LGBTQ Studies Program
Wilkinson College of Arts, Humanities, and Social Sciences; Department of English
Office Location: 428 N. Glassell, 104
Affiliations:

University Honors Program, First-year Foundations Program
Education:

San Diego State University, Master of Arts
University of California, San Diego, Ph.D.
Biography
I am Professor of Rhetoric and Composition in the English Department at Chapman University; I also direct Chapman's LGBTQ Studies Program and am affiliated with the University Honors Program. I grew up in Johannesburg, South Africa, where I completed my B.A. and B.A. Honours degrees at the University of the Witwatersrand. I earned my M.A. and Ph.D. degrees in the US, at San Diego State University and the University of California, San Diego, respectively. Now I live in downtown Los Angeles, one of the most wonderfully cosmopolitan cities in the world!
My primary areas of research and teaching are rhetoric and composition, and queer studies; in addition, I have interests in critical theory, film, feminist theory, cultural studies, critical race studies, and African literature. I'm the author of three books: Queer Race: Cultural Interventions in the Racial Politics of Queer Theory; Upsetting Composition Commonplaces; and Sex Panic Rhetorics, Queer Interventions, winner of the 2021 Lavender Rhetorics Book Award for Excellence in Queer Scholarship from the Conference on College Composition and Communication. Prior to coming to Chapman, I was Professor of English at California State University, Northridge, where I taught for ten years, serving for two of those years as Chair of the University Writing Council. I have also previously held positions at USC, California State University Chico, and The Ohio State University.
For my current office hours and a complete list of my publications, as well as syllabi for courses I have taught at Chapman, please visit my website.
Recent Creative, Scholarly Work and Publications