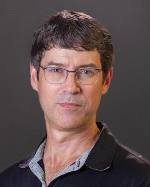 Dr. Douglas Fudge
Professor
Schmid College of Science and Technology; Biological Sciences
Expertise: Marine Biology; Biomaterials; Biomechanics; Animal Physiology; Hagfish; Slime
Office Location: Keck Center for Science and Engineering 265
Education:

Cornell University, Bachelor of Arts
Cornell University, Master of Arts
University of Guelph, Master of Science
The University of British Columbia, Ph.D.
Biography
Research Interests
Dr. Fudge's research aims to understand the biophysics of marine animals, with a focus on processes such as predator defense, feeding, and locomotion. Current projects aim to understand predator-prey interactions between hagfishes and sharks, the function and biogenesis of hagfish slime, and the development of biomimetic applications inspired by hagfish slime.
Keywords
marine biology, biomaterials, biomechanics, animal physiology, hagfish, slime, keratins, animal defense
Recent Creative, Scholarly Work and Publications

Zeng Y, Petrichko S, Nieders K, Plachetzki D, and Fudge DS (2021) Evolution of a remarkable intracellular polymer and extreme cell allometry in hagfishes. Accepted at Current Biology, August 26, 2021.