The Leatherby Libraries are committed to providing access to library services for all patrons in the Chapman community. The Library provides access to research materials and services through reasonable accommodations such as readily accessible adaptive technology and software, special equipment and personal assistance. The following information is provided to help users with disabilities make the most efficient use of library facilities, materials and services.
Leatherby Libraries Assistance and Technologies
Access
The east and west facing library entrances are equipped with wheelchair ramps and automatic entrance/exits doors.
All restrooms are wheelchair accessible.
The library has three elevators with access to all floors.
Service is available at all public service counters.
Most workstations and desks are wheelchair accessible.
Disabled access parking spaces are available in the Lastinger Parking Structure located next to the library. The structure is also equipped with an elevator. The Lastinger Parking Structure is labeled as "P4" on the campus map.
Assistive Technology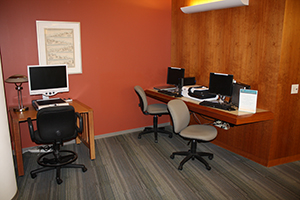 ZoomText Magnifier/Reader: ZoomText Magnifier/Reader is a fully integrated magnification and reading program tailored for low-vision users. Magnifier/Reader enlarges and enhances everything on your computer screen, echoes your typing and essential program activity, and automatically reads documents, web pages, email.
Merlin electronic magnifier: this cctv solution was designed to assist those with low-vision by offering magnification and contrast/color settings for text and graphics from print materials.
There are three stations are available in the Assistive Technology Alcove, just east of the main stairwell on the second floor.
Ask a Librarian
Chapman faculty, staff and students can connect online with a reference librarian for research assistance through out Ask a Librarian form.
Book, Journal, and Media Paging
Library staff can assist in retrieving materials from bookshelves. If materials are needed immediately, please ask a library staff person for assistance. The Circulation Department will be the first department to provide assistance followed by the Reference Staff. Users who have a great number of requests should contact the library in advance.
Photocopying, microform reader/printer, scanning assistance
Leatherby Libraries Circulation and Reference staff will assist users with photocopying, using microform reader/printers, and with scanning.
Telephone Requests
Users may call to have library staff determine if an item is on the shelf and ask that the item be retrieved and held for them. Please call the appropriate Desk:
Circulation Desk: (714) 532-7723
Reference Desk: (714) 532-7714
Campus Resources