»

Alumni Association Board of Directors Members
Ralphie Giron (EMBA '14)
President
Argyros School of Business & Economics
Ralphie Giron completed his EMBA, from Chapman University in 2014. He holds undergraduate degrees in Communications (Long Beach State) and Education (UCLA). He is currently a doctoral student pursuing a degree in Organizational Leadership Change. Prior to his role as President Elect, Ralphie served as VP of Marketing and VP of Engagement on the Alumni Association Board. Ralphie also recently co-founded the Asian Pacific Islander Desi American (APIDA) alumni affinity group at the university. Ralphie has spent a majority of his career at The Walt Disney Company in Communications. He has worked on global initiatives for the Parks and Resorts segment, including a partnership with ESPN in re-branding a sports complex at Walt Disney World, launching marketing campaigns, and franchise/alliance management. Recently he worked in Corporate Administration, aligning communication change strategy for and supporting senior leaders in the HR organization. In his current role, he works in Global Security on the Sensitive Information Protection program with communication, training, and awareness campaigns for the Disney Media & Entertainment Distribution business segment. He serves on the Board of Directors for Operation Jump Start, an organization that prepares high school students for college, and previously sat on the Susan G. Komen Orange County. Ralphie lives with his family in Long Beach, CA. In his free time, he enjoys traveling the world with his best friend, a killer workout that pushes him to the limit, and cooking up a storm.
Aaron Flewellen '04
Immediate Past President
Argyros School of Business & Economics
At Chapman, Aaron was a Founding Father of and held many positions in the Chapman chapter of Delta Tau Delta Fraternity and was selected to serve as one of ten members of Delta Tau Delta's Undergraduate Council. Aaron was also a Resident Advisor, an Orientation Assistant, Associated Student Senator and Chapman Ambassador. In 2009, after starting an agency that focused on employee benefits, Aaron was recruited by Orange County-based EBA&M to launch and manage a new program that helps small and medium sized companies self-fund their health insurance. Aaron currently lives in North Tustin/Santa Ana with his wife Kelsey (Smith) Flewellen '05 and their two young boys. In addition to his work with the Alumni Association Board of Directors, Aaron is an adviser to the Chapman chapter of Delta Tau Delta Fraternity. He joined the Alumni Association Board of Directors to help build a strong and beneficial network of alumni in Southern California and beyond.
Connie Lynn Benson '93
Vice President, Community & Heritage
Coming Soon!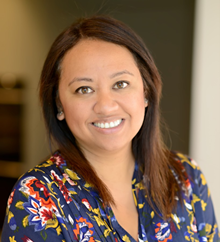 Leika Bishop '05
Vice President, Engagement & Marketing
Argyros School of Business & Economics
While attending Chapman, Leika served as the President of Delta Gamma Sorority, an Orientation Assistant and Coordinator, a Chapman Ambassador, and the Student Life Greek Community Coordinator. Prior to graduation, she was named President of the Year, as well as the Greek Woman of the Year.
Leika is the Senior Marketing Manager for Pac-Dent Inc., a global dental materials and equipment manufacturer. She frequently speaks to Chapman students seeking to enter the dental industry, including the members of the Chapman Pre Dental Society.
Leika resides in Costa Mesa with her Chapman Sweetheart, C.J. Bishop '05, MBA '08, PhD '18, whom she reconnected with at the first Chappy Hour. She currently advises the Chapman chapter of Delta Gamma. In their free time, Leika and C.J. enjoy traveling and spending time with their friends and family, many of whom are Chapman Alumni.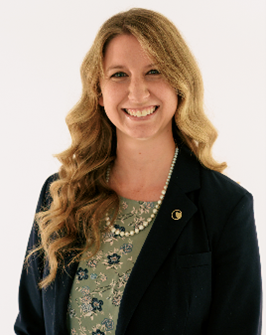 Allison Lentz '13
Vice President, Development and Giving
School of Communication
Born and raised in Orange County, CA, Allison "Ally" Lentz started at Chapman University in the fall of 2009 as a Communication Studies major. As an undergraduate, she became a member of Kappa Alpha Theta and participated in many activities and events associated with her major.
Today, Ally is honored to work at the CHOC Foundation, which is the fundraising arm for Children's Health of Orange County (CHOC) in Orange, CA. She proudly serves as the Associate Director of Donor Experience. Her primary roles are to ensure that donors of the hospital remain engaged and involved by planning tours, receptions and check presentations, as well as creating recognition and impact reports. Ally is an member of the Association of Donor Relations Professionals (ADRP) and the CHOC Foundation is a member of The Woodmark Group.
Ally is a proud homeowner in Old Towne Orange. She enjoys walks to "the circle" to support local businesses and spending time with her family, friends and rescue cat.
Michelle A. Philo '03
Vice President, Operations & Strategic Planning
Wilkinson College of Arts, Humanities & Social Sciences
Michelle A. Philo is the principal at Philo Law Firm, P.C., where she provides concierge general counsel services to small business owners as well as estate planning, trust administration, and probate services to individuals and families. Prior to launching her own firm, Michelle served as General Counsel at Adtile Technologies Inc., a technology company focused on motion engagement and virtual reality for mobile devices. Michelle started her legal career at a mid-size firm doing business litigation, business transactions, and estate planning. Michelle has been active in the legal community since becoming a lawyer and has served as the President of Orange County Women Lawyers Association, Vice President of Development for the Chapman University Alumni Association, President of the Whittier Law School Alumni Association, and Chair of Orange County Bar Association's Young Lawyers Division. Michelle is also active in the American Bar Association and served as a California State Bar Delegate to the House of Delegates. Outside of her day to day work, Michelle has been committed to issues surrounding gender in the profession. Under her leadership with Orange County Women Lawyers Association she launched the annual Equal Pay Day luncheon and judicial evaluation process and increased funding for the OCWLA Foundation. She has chaired California Women Lawyers' Gender Equity Task Force developing a speakers' bureau and awards database for female attorneys. She has served as a member of the ABA's Gender Equity Task Force Social Media Working Group and was involved with the San Diego Lawyers Club and ACC San Diego's Joint Task Force on Gender Equity, a committee bringing the conversation of gender equity to law firm decision makers and general counsel in the San Diego region.
Randy Rosales '12
Vice President, Engagement & Marketing
Schmid College of Science & Technology
Dr. Randy Rosales was born and raised in Orange County, CA. He earned his undergraduate degree in biochemistry from Chapman University, followed by his dental education at University of California, San Francisco. Dr. Rosales excelled clinically during his training and is excited to be back home to take care of his hometown community. In his spare time, Dr. Rosales enjoys providing dental care to those with limited access to care. In the past, he has served those in Panama, Jamaica, and Mexico. He also enjoys playing basketball, training and racing triathlons, traveling, and exploring local restaurants.
Shawn Smith '81
Vice President, Recognition
Argyros School of Business & Economics
While at Chapman, Shawn sold insurance under the business name from his Harris apartment, and was a founding member and served as President of the Chapman Business Club. He was present at the first Chapman Economic Forecast (and almost every Forecast since).
Shawn was a past President of the Chapman Alumni Board (1992-1993) and is now an active board member. He has been employed in the Corporate Finance arena for more than 25 of the last 37 years, enjoying more than 17 years as Vice President of TD Service Financial Corporation.
Currently, Shawn is the President of ABC Toastmasters Club in Anaheim, an active member of Yorba Linda Masonic Lodge, Treasurer of the Orange County Scottish Rite, and serves as an advisor for Yorba Linda DeMolay.
Shawn and his "Chapman Sweetheart" Debbie (Gollehon) '83 have two adult children and live in Anaheim Hills.
Steven Babiak '15
Member
Argyros School of Business & Economics
Steven Babiak graduated from the Argyros School of Business and Economics in 2015 with a Bachelors in Arts in Business Administration, with a dual emphasis in Real Estate and Entrepreneurship and a minor in Economics. While at Chapman, Steven was highly engaged on campus, serving as a two-term Resident Advisor and Founding Father of the Phi Delta Theta Fraternity chapter on campus, as well as participating in the Chapman University Investment Group, Chapman University Business Plan Competition, Black Student Union, Next Step Social Justice Retreat, Alternative Break, and volleyball intramurals. Today, Steven is a Vice President in Investment Banking on the Project Finance team at MUFG Bank, Ltd, based out of the Los Angeles Office. In his role, Steven originates and underwrites public and private debt offerings for utility-scale power projects located in North America. In the past four years, Steven's has arranged over $10 billion in transactions, resulting in five Deal of the Year awards from industry publications. Steven completed MUFG's Global Analyst Program, which concluded with a three-week trip to MUFG's global headquarters in Tokyo. Besides his role on the Alumni Board, Steven serves as a Chapter Advisory Board member for the Phi Delta Theta chapter at Chapman. In his free time, Steven stays active playing tennis and softball near his residence in Santa Monica, and of course, deeply enjoys attending Chapman's alumni events with friends both old and new.
Kameron Backstrom '17
Member
Dodge College of Film and Media Arts
Born and raised in Orange County, Kameron "Kam" Backstrom started at Chapman in the fall of 2014 as a TV News and Documentary major. He followed in the footsteps of his late grandfather James Backstrom who graduated from Chapman in 1956. As an undergraduate, he joined the Phi Kappa Tau fraternity, Chapman Sports Broadcasting Network and Chapman Ambassador program.
Today, Kam works at Apple, as a Marketing Asset Manager on the Business Affairs team within the App Store. His primary role is to be a liaison between the Business Affairs team and Production team to gather assets from third party app developers for marketing purposes and digital campaigns across the globe.
Outside of work Kam is a proud Baltimore Ravens fan, a daily user of iMDB for all things entertainment and a die hard sports fan. You can catch him traveling across the world or at your local movie theater.
Tara Bokosky '14 (MA '17, MBA '17)
Member
Attallah College of Educational Studies, Argyros School of Business & Economics
Tara graduated with her Undergraduate degree in Education with an emphasis in Disability Studies. She continued her education and received her MBA in 2017, as well as with her Master's in Special Education. Tara is also involved in the Chapman University Alumni Board and MBA Alumni Board. Tara is a Financial Advisor at Tax & Financial Group. She works with business owners and professionals and guide businesses, families, and individuals with the accumulation and preservation of wealth through comprehensive financial strategies. Before entering the financial services industry, Tara worked in the Brea Unified School district and remains involved within the special needs community.
Hung Do (M.S. '16)
Member
School of Pharmacy
Hung Do completed his M.S. in Pharmaceutical Sciences from Chapman University School of Pharmacy in 2016. He holds undergraduate degree in Chemistry at the University of Arizona in Tucson, Arizona. Prior to his position on the Alumni Association Board, Hung served as a Founding Member of the Alumni Advisory Board (AAB) for the School of Pharmacy. In addition to his involvement with the Alumni Association Board, Hung serves as an Industry Partners Council Board Member at Chapman University where he provides career mentorship to Chapman health science students.
Hung has spent a majority of his career working in the pharmaceutical industry. He has also worked to advance the role of pharmacists and biopharmaceutical researchers in public health. In addition, Hung has worked with Orange County elected officials on local health agendas and Asian American and Pacific Islander (AAPI) outreach initiatives. The premise of Hung's work at the U.S. FDA is to educate industry professionals the importance of ongoing quality improvement practices and to improve patient care – a constant drive to achieve excellence in healthcare.
Active in his community, Hung volunteers as an Associate Board Member for the Second Harvest Food Bank of Orange County. He utilizes his marketing development skills to support annual fundraising. Hung cherishes time with his family and friends, all whom strengthen his journey in life. He rejuvenates by exploring and appreciating the wonders of the outdoors. He also enjoys learning about cultural history, food heritage, and learning new languages with his colleagues.
Kathleen Doll '14
Member
Crean College of Health and Behavioral Sciences, Wilkinson College of Arts, Humanities & Social Sciences
Kathleen currently serves as a Partner + COO at Intention 2 Impact, a research, evaluation, and strategy consulting firm serving purpose-driven organizations to measure + maximize impact. She has devoted her career to measuring impact with intention so foundations and nonprofits can better serve communities, advance equity, and contribute to positive systems change.
Kathleen graduated magna cum laude from Chapman in 2014, with a BA in Political Science and Psychology and minor in Women's Studies. Upon graduation she was awarded the Ronald M. Huntington Award for Outstanding Scholarship and honors in both majors. More importantly, during her time at Chapman, she served as an Orientation Leader, Henley Lab Fellow, and was a member of Gamma Beta Phi Honor Society, Order of Omega, Psi Chi, and Pi Sigma Alpha. Additionally, Kathleen was a part of Gamma Phi Beta sorority and played on the women's soccer team during her freshman year.
Kathleen went on to complete her PhD at Claremont Graduate University in Evaluation and Applied Research Methods in 2020. She currently lives in Irvine, CA with her "Chapman Sweetheart," Chris Darling '14.
Saul Lopez '20
Member
Argyros School of Business & Economics
Saul was born and raised in Mexico. At the age of 14 he arrived in Santa Ana, CA with one goal in mind, to achieve the American Dream by being the first person in his family to graduate from a university. With this dream in mind, he spent the next 4 years working extremely hard to learn the English language, adapt to the culture, and catch up to his peers. He hoped his efforts would be enough to have a shot at attending his dream school, Chapman University. With a little luck, he was accepted to attend in the Spring of 2015. He battled through life problems, financial setbacks, and lack of resources to eventually graduate in 2020 with his BA in Business Administration with an emphasis in Management.
Today, Saul serves his community as a Financial Advisor at Modern Woodmen of America. He also serves as the Charity Chair on the Board of The Elite OC, a group of young professionals coming together to give back to local charities. He also serves as the President of SMART BNI, a networking group of professionals. Lastly, he serves as an Ambassador for the Orange & Santa Ana Chambers of Commerce. He serves because of an immense passion for community & impact.
Alan Peterson '18
Member
Argyros School of Business & Economics
Alan Peterson is a Senior Associate on the residential research team at Green Street – the preeminent provider of real estate and financial market intelligence. He supports research coverage of the apartment, single-family rental, manufactured home park and student housing sectors and plays a central role in the coverage of roughly 15 publicly traded real estate stocks. Alan is also a member of the National Multifamily Housing Council (NMHC).
Alan earned dual degrees, a B.S. in Business Administration with an emphasis in Finance and a B.A. in Economics, from Chapman University. While at Chapman he served as Treasurer of Phi Kappa Tau, Vice President of the Chapman University Investment Group, and was the Senior Portfolio Manager of the Janes Financial Center Residency Program. Additionally, he was a member of the Order of Omega Honor Society and an Orientation Leader.
Justin Riley '11
Member
Dodge College of Film and Media Arts
Justin Riley is the inaugural Associate Director for Student Community Support and Development at Chapman University, shepherding the vision and execution for Black and African American student enrollment, retention and success. Prior to his return to campus, Justin worked as a small business executive and entertainment professional, most notably working as producer on Facebook's Emmy-nominated show, Red Table Talk. He is the founder of Purpose Over Profit, a consulting and personal development company, and has appeared on various media outlets, including OWN, Blavity, FOX Soul, and multiple features in the Huffington Post.
As an undergraduate, Justin served as the Black Student Union president and graduated as one of the school's most decorated basketball players, leading Chapman to back-to-back NCAA Division III tournament appearances. He earned a B.F.A. in Television and Broadcast Journalism in 2011 and is currently enrolled in the Leadership Development graduate program. He is married to his Chapman sweetheart, Joy, and is a proud #GirlDad.
Martha Rivera '12
Member
Crean College of Health and Behavioral Sciences, Wilkinson College of Arts, Humanities & Social Sciences
Born and raised in Santa Ana, CA, Martha Rivera started her higher education journey at Chapman University in 2008 with a focus in psychology and Spanish. As the oldest daughter of two immigrant parents, Martha grew up believing that it was important to work hard and to serve her community. She used her passion for working with her community and translated it during her time at Chapman University. Being close to her hometown, Martha continued volunteering and mentoring first generation students. She also built and strengthened her Chapman community by joining and leading a variety of student groups, working on campus, research studies and developing programming opportunities for students, like the Promising Futures program on campus. Wanting to continue making a change, Martha pursued her Masters in Education at the Harvard Graduate School of Education. After graduation, Martha combined her background, education and experience to successfully transition into the field of college access. She currently serves Bright Prospect as their Director of Community Relations.
Karina Ruiz '17
Member
Argyros School of Business & Economics
Karina is a Relationship Manager in the Commercial Banking Diverse Segments Group for Wells Fargo, where she also serves as the Enterprise Administrative Chair for their Hispanic & Latino Connection Employee Resource Group.
She earned her double Bachelors in Economics and Business-Finance with a Minor in Political Science from Chapman University, where she was recognized with the Financial Executives International's Academic Excellence Award. During her time at Chapman, Karina worked in the Department of Student Engagement, was a committee member in the University Program Board, and was a cybalist in the Pride of Chapman pep band.
Karina recently served on the Association of Latino Professionals for America (ALPFA) Orange County Chapter Board. She is also a former board member and current volunteer for the Orange County Hispanic Youth Chamber of Commerce.
In her spare time, Karina enjoys volunteering, hiking, and discovering new music.
Mark Schauwecker (MBA '03)
Member
Argyros School of Business & Economics
Mark Schauwecker is the Director of Financial Planning and Analysis at Foundation Building Materials, and leads the team headquartered in Santa Ana, CA. He and his team are responsible for Management Reporting and decision support through long range planning and Operational Analysis to profitably grow the business. Mark has 20+ years of experience in finance, mostly in FP&A and commercial support working cross functionally in organizations to support profitable financial growth. Many years of his experience have been with rapidly expanding companies in distribution and the healthcare industry.
Having led many teams in various roles, Mark is passionate about developing talent and encouraging and helping people to achieve their professional goals. His team members have been promoted and moved into senior positions. Mark's development of leadership skills started in Boy Scouts were he holds the rank of Eagle Scout.
Mark graduated with Honors from Chapman University in 2003 and is a member of the Beta Gamma Sigma Honor Society. Mark also serves on the Chapman50 executive council and is passionate about establishing a mentorship program at Chapman. Active in his community, Mark serves as the Treasurer on the Board of YES (Youth Employment Services) in Santa Ana and previously served on a local Chapter of the American Red Cross in Chester County Pennsylvania. In his spare time, Mark also enjoys cooking, wine tasting, travel and tennis.
Monica Shukla-Belmontes '06, '07 (MS '08, MA '09, PhD '15)
Member
Schmid College of Science and Technology
Monica Shukla-Belmontes, Ph.D., is the Associate Dean for Curriculum, Assurance of Learning, and Competency-Based Education in the School of Business and Professional Studies at University of Massachusetts Global. In addition, Monica is also an Adjunct Faculty with Schmid College of Science and Technology and previously had roles as a Manager with the Chapman Career Development Center and Alumni Relations Department. She is a 5-time alumna of Chapman University with a B.S. in Mathematics, B.A. in Communication Studies, M.S. in Human Resources, M.A. in Organizational Leadership, and Ph.D. in Education. During her time at Chapman University she has partnered with the Interfaith Center and South Asian Student Association to grow the annual Diwali festival, as well as previously served as the Tri-Delta Academic Advisor. In addition to her work in higher education, she also supports community efforts, which have led her to be a 2020 OC Business Journal Women in Business Award Nominee and 2019 Women of the Year Award Recipient from 46th Congressional District Representative Lou Correa. Monica currently lives in Orange with her family including two future panthers, Kailyn and Kaden.
Monika Vu '13
Member
School of Communication
Monika Vu is a business leader with the spirit of a servant. A proud Chapman graduate with a BS in Communication with double minors in Business Administration and Leadership & Organization Studies. She was the founder of Chapman University's National Society of Leadership and Success, a Chapman Ambassador, Orientation Leader and a member of Phi Sigma Sigma. She began her professional career in management advisory and in the consulting services industry. Today she is part of a Fortune 500 company and consults for startup companies. Since graduating from Chapman, Ms. Vu has founded a non-profit organization, served as a board member, successfully launched a product, and received her MBA with distinguished recognition from Pepperdine University. Ms. Vu attributes her leadership and relationship skills to her cultural experiences in over 34 countries and can speak four different languages. She resides in Orange County with her husband and enjoys an active lifestyle, scuba diving, sailing, gardening, and serving others.
Michael Wimberley '16 (JD '20)
Member
School of Communication, Fowler School of Law
Michael Wimberley was born and raised in Orange County, CA. After graduating with honors with an Associate's Degree from Santiago Canyon College he transferred home to Chapman University. He graduated magna cum laude with a B.A. in Strategic and Corporate Communication in 2016 at 17 years old, becoming the youngest graduate in Chapman's history. In his senior year, he co-founded and served as Vice President of Chapman's International Association of Business Communicators and had an award-winning show with Chapman Radio.
After graduation he gained valuable experience at a Panther owned law firm and held multiple positions on staff at Musco Center for the Arts. Michael entered the Fowler School of Law and earned his Juris Doctor in Dec. 2020 with an emphasis in Environmental, Land Use, and Real Estate Law. In his final year of law school, he received the L.S Palmos Scholarship Award for honors in the emphasis program.
While in law school, he served as the President of the Christian Law Student Society, he was a research assistant to Professor Donald Kochan, and an academic fellow to Dr. Ronald Steiner, teaching a supplemental class and tutoring upper-class students in Criminal Procedure: Police Practices.
Michael is currently an Associate Attorney in Orange with the Law Offices of Einwechter & Hyatt, practicing in the firm's litigation and transactional matters.
While not at work or at a Chapman event, you can find Michael hanging around Old Towne, fishing, hiking, road tripping to Texas, or performing with his siblings as Wimberley Bluegrass Band.
Jessica Winn '01
Member
Attallah College of Educational Studies
Jessica Winn is a CTP Specialist in the mortgage industry. She relocated from Orange County to San Diego after graduating Chapman to begin her career in the financial field. Not too long after arriving in San Diego and working in mortgage, she obtained an opportunity and ventured into advertising, working for San Diego's largest direct mail magazine at the time, and then served as an Organizational Development consultant. She is thrilled to be back in the financial field helping to make clients dreams of construction and homeownership come true. While residing in San Diego, Jessica cheered and danced professionally and was co-owner of JMM Productions, producing the San Diego Gulls Girls. Much of Jessica's expertise has come from an array of opportunities. She has worked in television for a Fox sitcom, done promotional and print work for Coca-Cola and NASCAR, and has worked with the United States Air Force Thunderbirds and the United States Navy Blue Angels. She spent much of her early career in public speaking and spokesperson roles. Jessica has a deep passion for community service and volunteer work and has spent thousands of hours volunteering with the military, professional sports teams/athletes, children's programs, the Welk Foundation, animal rescues, countless charities, and many more. In her free time, you can find her at the beach, dancing, or catching a baseball game (her ultimate love) or cheering on her favorite hockey team. She is a former cheer coach and dance instructor. Jessica enjoys exploring new restaurants, hiking, concerts, and most importantly, taking her three children on adventures and enjoying life.
Kelly Zupan '17
Member
Argyros School of Business & Economics
Kelly graduated with her Undergraduate degree in Business Administration and a minor in Music. On campus Kelly was involved in Kappa Kappa Gamma and is now involved in the Chapman University Alumni Board. Kelly is a Principal Recruiter at Jobot. She works with clients and candidates across the nation to help them find new job opportunities and fill openings on client's teams. She also provides career counseling to take people's job search to the next level.
Board Liaisons
John Bishop (JD '11)
Fowler School of Law
Liaison - Law Alumni Association
John graduated cum laude from Chapman University School of Law in 2011. He works as a partner at Ray & Bishop, PLC, in Newport Beach, defending licensed professionals (such as doctors, nurses, dentists, or real estate agents) from state agency discipline. Since 2012, he has taught courses as an adjunct professor in the Fowler School of Law, including legal analysis and writing. He also completed an honors course in film and two Japanese classes at Chapman University in 2020-21 as a non-degree seeking student. John was heavily involved while a student at Chapman's law school, serving as President of the Moot Court team, Submissions Editor for the Chapman Law Review, and as a member of the honor council, mock trial team, academic fellows, and student ambassadors. He is grateful to serve as a member of the alumni association. John lives in Irvine. In his free time, he plays softball, volleyball, and basketball.
Adam Coughran '04 (MA '10)
Wilkinson College of Arts, Humanities & Social Sciences
Liaison - Chapman50
As President of Safe Kids, Inc., Adam Coughran is an industry leader in active shooter education and training for schools and businesses. Adam is a veteran of Southern California law enforcement who utilized his expertise to found Standards Training Group and Safe Kids Inc., organizations dedicated to helping deter crime and mitigate violence. He's been recognized as one of the "Go-To" experts for national media outlets, appearing on NBC's Today Show, ABC's Good Morning America, FOX's Nancy Grace, HLN's MichaeLA, CBS This Morning, and numerous live interviews.