Argyros School of Business and Economics
»

Women in Business
Roster 2018-2019
Our mission is to inspire and empower women in the Argyros School of Business at Chapman University by connecting students with business leaders, creating networking opportunities and producing learning possibilities to develop new skills. 
Angelica Rivera
President
anrivera@chapman.edu
Angelica is in her second year of the MBA program and is set to graduate in May 2020. She earned her bachelor's degree in Liberal Studies at California State University of Monterey Bay. In Monterey she worked in the wine business and is hoping to one day open her own wine bar. She played softball from the time she was four years old until undergrad. She is involved with multiple groups at Chapman including Graduate Student Association, and is Vice President of the Graduate Business Association. Outside of school, Angelica is passionate about Disneyland, outdoor adventures, being active, traveling, reading, binge-watching the best tv shows and movies, and her pug Lilo. She always has a smile on her face and is always welcoming to those around her. Her goal is to help shape the relationships that students have on campus and excite students who want to play a part in the Chapman community. As president of Women In Business, she is passionate about bringing strong, powerful and successful women together to encourage and guide other women to not give up and to follow their dreams.
Rebecca Spear
Vice President
spear108@mail.chapman.edu
Rebecca is an Orange County native and a proud Panther who first came to Chapman for her undergraduate studies. She completed a B.S. in Health Sciences with dual minors in Psychology and Sociology in 2015. After working as a medical assistant and phlebotomist for four years, Rebecca decided to leave medicine and pursue a business career in the entertainment industry. She was ecstatic to not only return home to Chapman but to also reconnect with her musical theater roots when she started her MBA in 2019. Rebecca is currently in the OnRamp program at Chapman, run by professor Judd Funk, J.D., that allows her to work with Chapman MFA and JD students in order to prepare to break into the entertainment industry through special projects, events and mentorships. Rebecca is involved in the Graduate Business Association as the Social and Philanthropic Coordinator and does acting and promotional modeling work in her spare time.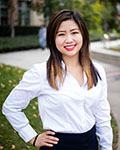 Mellisa Low
Director of Business Relations
melow@chapman.edu
Motivated, outgoing, hardworking, innovative are a few words that describe Mellisa Low. She is a first-year MBA candidate specializing in Media and Entertainment. Mellisa is originally from Mobile, Alabama where she attended the University of South Alabama to pursue her undergraduate degree in Marketing. Mellisa's work experience ranges from supply chain with a defense contractor to marketing and promotions with a casino. Mellisa decided to pursue her MBA at Chapman because she wanted to expand her career to the big cities and do creative marketing in media and entertainment. On the leisure side, she enjoys hiking, listening to K-pop, and is a huge foodie who loves to travel. As the Director of Business Relations for Women in Business, Mellisa is excited help build an empowering environment for the organization, while also increasing opportunities for members to grow and develop as successful leaders.
Brianna Kdeiss
Director of Administration
kdeiss@chapman.edu
Brianna Kdeiss is a first-year MBA candidate at Chapman University. She received her undergraduate degree from California State University, Fullerton in Biological Science with a concentration in Molecular Biology and Biotechnology. During her time at CSUF, Brianna researched Heat Shock Protein and lipid interactions as a student researcher. She was fortunate enough to speak at national conferences, such as Experiment Biology, and has been published multiple times in journals such as Scientific Reports and Biochemical and Biophysical Research Communications. Brianna worked for Johnson and Johnson's Advanced Sterilization Products Medical Device Company for a year and a half and is excited to be starting her next journey here at Chapman. Thrilled to be part of Women in Business, Brianna is committed to increasing club awareness on the Chapman campus and supporting personal and professional growth for all members.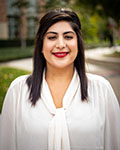 Hasnu Kwatra
Director of Membership
kwatr101@mail.chapman.edu
Hasnu is a first-year MBA candidate at Chapman University. She received her bachelor's degree in History from Chapman and has experience teaching debate and managing government contracts in the medical technology field. She is excited to welcome new and prospective students to Women in Business and support an empowered community.
Bisma Abbaali
Director of Marketing
abbaa101@mail.chapman.edu
Bisma Abbaali is a 4+1 MBA candidate at Chapman University, graduating in 2020. Bisma has continued her education at Chapman, having received her Bachelor's in Business Administration (emphasis: Marketing) and Bachelor's in Political Science in 2019. Most recently, Bisma worked as a Content Marketing Intern at The Honest Company, Jessica Alba's mommy, baby and beauty company. Over the years, she has held a variety of marketing positions at Aflac, Wham-O and Sugarfina. Bisma is also in the process of building a beauty mobile app. She holds a position as Social Media Coordinator for Chapman's Graduate Business Association. Aside from school and work, Bisma invests time in humanitarian efforts as a Youth Representative of a small non-profit organization called the Memon Organization of North America. As the Director of Marketing, Bisma is eager to grow the organization, establish a stronger network and increase the opportunities available for members.