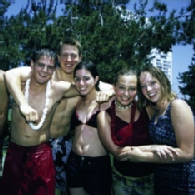 Support groups are not only empowering, they help with interpersonal skills such as giving and receiving feedback, creating a listening environment, focusing positive energy, learning that you are not alone in your feelings, and sharing meaningful experiences with others. Even for those who are shy and quiet, support groups offer a safe place to feel accepted and connected. Groups have 3-8 members and meet for 2 hours once a week. Members share current issues they are facing and get feedback and support from their peers and group facilitator.
You do not have to feel isolated in your feelings.....support each other!
Let us know the kinds of groups you would be interested in!
procrastination? self-esteem? relationships? adjusting to college life? communication skills? or anything else!
Contact Linda Karmelich at karmelic@chapman.edu with your suggestions.