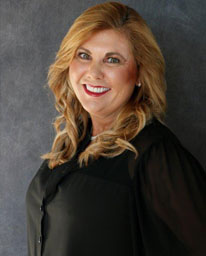 For nearly twenty years, Mrs. Lastinger has worked devotedly to make positive transformational changes to her alma mater, Chapman University, and to healthcare, the arts, social services and higher education throughout Orange and Riverside Counties.
Mrs. Lastinger became the CEO of the Irvine-based A. Gary Anderson Family Foundation after her father, a self-made mortgage banking and real estate business leader for whom the foundation was named, died in 1992. Under Mrs. Lastinger's leadership, the Anderson Foundation has earned its reputation as one of the most generous organization in Southern California.
A soccer player while an undergraduate, Mrs. Lastinger transformed athletics at Chapman University through the Anderson Foundation's $6 million gift to construct an entirely new athletics facility. In the early 1990's, Chapman's President Jim Doti made the decision to change the university's athletics programs from Division II to Division III status, in order to make a push to improve the school's academics.
Mrs. Lastinger's leadership gift allowed Chapman to break ground on its multi-purpose facility, which was opened in August 2008 as the Erin J. Lastinger Athletics Complex. The facility earned a Facility of Merit award from Athletic Business magazine, and paved the way for Chapman's entry into the Southern California Intercollegiate Athletic Conference (SCIAC).
Mrs. Lastinger also provided the lead gift for the next phase in Chapman's strategic plan for athletics — the Erin J. Lastinger '88 Tennis Center – strengthening Chapman's tennis program so the Panthers have the opportunity and confidence to play their very best. 
Mrs. Lastinger also improves student life at Chapman through her foundation's steadfast support of Chapman's annual American Celebration and the Argyros School's A. Gary Anderson Center for Economic Research.  Outside of Chapman, Mrs. Lastinger and the A. Gary Anderson Family Foundation has had an enduring impact throughout Southern California, including the support of organizations benefitting children and families, education, hospitals and the environment.