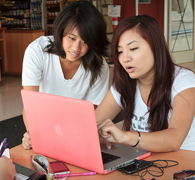 The Chapman General Education (GE) program consists of four focus areas/major categories that must be completed. The links provided below will take you to a page for further information on each of these focus areas and provide you with a list of courses that will satisfy the GE requirement(s) in that area.

1. First-Year Focus (3 credits) - The First-year Focus Course (FFC) is designed to strengthen your critical thinking skills in dynamic learning seminars with outstanding faculty. While all sections vary in topic, they share the same learning goal: students critically analyze and communicate complex issues and ideas.

2. Liberal Arts and Sciences Focus (18-19 credits) - Inquiry courses allow for study in the following areas:
Courses from a variety of disciplinary areas and at all academic levels are available to address each of these inquiry areas.

3. Global Focus (12-18 credits) - Global Focus courses explore the diversity inherent in our social and natural environments, citizenship and service, and require you to attain a basic intermediate fluency in a language other than English. Courses are required in the following areas:
4. Exploration Focus (12 credits minimum) - You will have the opportunity to explore a secondary area of interest by completing a minor, 2nd major, the University Honors program or by choosing a sequence of courses with a thematic focus, known as the Themed Inquiry.

A certain number of GE courses may be shared with a student's major and minor. An individual course may only be used to complete one GE category. For more on credit sharing between major, minor and GE, see the Sharing Courses below. 

GE courses may also be completed by testing or transfer credit. Consult the websites provided by the Office of the University Registrar regarding AP, IB, CLEP, and transfer equivalencies. The Center for Global Education Office Global Gateway provides information on courses offered through Chapman's study abroad program approved to satisfy GE categories through their partner programs. See also GE and Study Abroad.