As part of Chapman University's mission to promote global citizenship, the university encourages faculty participation in international exchange. 

One way to do this is through the Fulbright Scholar Program. The Council for International Exchange of Scholars (CIES) administers the Fulbright Scholar Program on behalf of the United States Department of State, Bureau of Educational and Cultural Affairs. The core Fulbright Scholar Program attracts some 800 U.S. faculty and professionals each year to 140 countries to lecture, teach and conduct research. An equal number of academics and professionals from overseas visit the United States each year under a Fulbright Scholar grant. For the Fulbright U.S. Student Program, see Chapman's Fellowships and Scholar Programs page.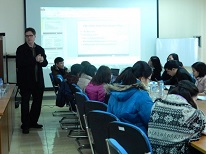 The purpose of the Fulbright Scholar Program is to increase mutual understanding and support friendly and peaceful relations between the people of the United States and the people of other countries. Fulbrighters exemplify the power of international academic exchange to transform lives, bridge geographic and cultural boundaries, and promote a more peaceful and prosperous world. Fulbrighters are engaged in projects on environmental issues, food security, public health. education and other challenges that require innovation, creativity and knowledge. Fulbrighters are current and future leaders who are ready to share their knowledge and culture, who are open to know ideas and who are committed to international engagement.