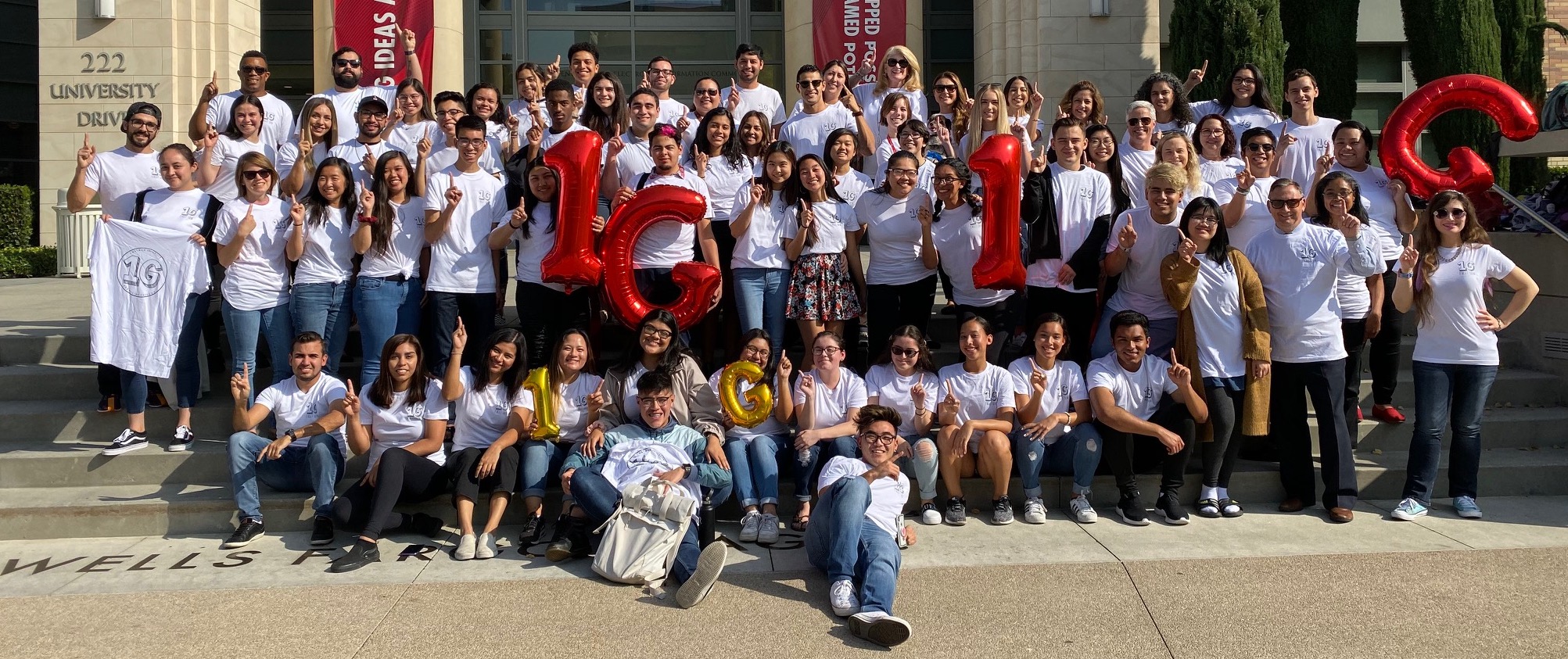 First-Generation Programs
»

First-Gen Voices
Voices of First-Gen Students at Chapman
This page is dedicated to sharing the diverse stories and experiences of first-generation student involvement at Chapman University.
Diana Alanis
She/Her/Hers
BFA Film Studies, Minor in Women Studies, 2020
Speaking on Preparing for Grad School
Graduate school was never a goal of mine until I saw Chapman University's 4+1 MA Film Studies program when applying as a senior in high school. Once I was at the university and the application opened in the Spring of my junior year, I had the support of my professors and access to letters of recommendation. I knew it was a definite benefit to apply free of charge and without the requirement of GRE exam scores. I reflected on how difficult it was to transition to Chapman as a freshman and wanted to maintain the community I had built with professors and peers. By continuing my education at Chapman, there was no transition period in order to get accustomed to a new school. I had initially considered much larger schools, but it made more sense for me to stay at Chapman and feel confident in navigating the environment. Enrolling in graduate-level courses was intimidating, but it was surprisingly similar to the upper-division courses as an undergraduate. The main difference is the higher word count for final papers. By this point, I have conducted research and crafted my style of writing to feel confident enough to approach the graduate courses. There is plenty of independence within the program as the expectation is that every student should be responsible for their own work. The 4+1 program requires students to find research topics and to use the information they have gained from undergraduate classes to create an original thesis. This thesis must be presented in front of a committee and should reflect the student's academic and personal interests. Finding something that will warrant your attention for 2 years should exercise your ability to be bold with the research topic. Graduate school is about inputting your own voice into your field of study. Do not be afraid to take a risk, especially if it excites you. The scarier something appears, the better it feels when you conquer it.
Pablo Arias
He/Him/His
B.A Psychology, Minor in Latinx & Latin American Studies, 2022
Speaking on Residence Life and First-Year Experience
I applied for on-campus housing my first year at Chapman. During orientation week, I was able to meet and interact with the people who lived in the same building as me and the people who were in the same college as me. The transition from high school to college was smooth since Chapman provided a lot of informational sessions and events for me to attend. Each of these programs gave me the opportunity to meet a lot of new people every day. Chapman Residence Life and First-Year Experience provided me with the resources to thrive in an inclusive living and learning environment. Since the building we were placed in was with people who were in the same college, it made it really easy to collaborate with peers that were taking the same courses as me. There are study rooms and lounges in every residential hall which provided me another space to study if I wanted an option other than my room or on campus. Throughout the school year, I was able to academically, professionally, and socially grow by resident advisors planning events focusing on career readiness, physical wellness, emotional and spiritual wellness, financial literacy, life skills, civic and global engagement, academic success, and diversity, equity, and inclusion. These programs also served as a great opportunity to meet new people in my residential hall and gain unique insights from their background. Additionally, for all the support my Resident Advisor has given me, it inspired me to give back to the community that provided me an inclusive living and learning environment. Since then, I became a Resident Advisor for continuing students. I am grateful to serve as a role model to residents and help those who share similar backgrounds as me. My advice to first-generation students is to take advantage of all the resources given to them and to take pride in their unique backgrounds. I encourage them to get outside of their comfort zone and attend these events to enhance their college experience. Throughout these programs, they can establish long-lasting relationships and gain professional development.
Kelsea Beck
She/Her/Hers
B.A. Integrated Educational Studies, Minors in Psychology & Language and Literacy, 2020
Speaking on Working on Campus
As part of my financial aid at Chapman, I was approved for work study. Despite my efforts during my first year, I did not get a job. I also struggled with school and learning to be more independent, as I was a first-generation college student and 1000 miles away from home. My sophomore year I moved off campus, and it became imperative that I find a job. I had to pay my rent and this need pushed me into action. Rather than simply filling out an application, I talked to the school dean and went into offices to speak to supervisors, so they knew I was serious about seeking employment. One of my friends that worked at the Office of Career and Professional Development told me there was an opening, and she put in a good word for me after I applied. Who you know can really make a difference! In October of my sophomore year, I began working on campus at the Office of Career and Professional Development. The staff at Career and Professional Development has been instrumental in my success at Chapman. In addition to constantly offering words of encouragement through my struggles, academic or otherwise, they have been a great resource. I believe it is this staff that has pushed me to reach my full potential at Chapman. By meeting with Career Educators for resume review and attending their Mock Interview event, I have a lot more confidence in my professional capacity. In my senior year, I got a second job working for Irvine Unified School District. I truly believe it was through the help of my office that I was able to provide the employers with a polished resume and present myself well in an interview. Recently, they have also helped with my statement of intent as I applied to grad schools in pursuit of my master's degree and teaching credential. My advice to other first-generation students would be to use the resources Chapman provides. I cannot stress the importance of making connections. One of the most valuable assets you can have is your network, so put yourself out there. It can be hard and scary, but I promise it will benefit you in the end. Show up to mock interviews and career fairs, make appointments with career educators, polish your resume, join a club… be a part of something bigger than yourself. Most importantly, remember that you are not alone. Chapman has the most supportive staff and faculty I have ever had the pleasure of working with. They especially love their first-generation college students!
Aaron S C. Chen
He/Him/His
B.F.A. Television Writing and Production, Minor in Leadership Studies, 2020
Speaking on Student Psychological Services/Student Health Services
Adjusting to Chapman and Chapman's climate was very difficult for me. As many first-generation students will tell you when you start college, there is a feeling of not belonging and not deserving your spot at this school. Imposter Syndrome devoured my mind during my first three semesters at Chapman. The additional stress of finances, navigating social groups, and career anxiety caused my mental health to decline at a rapid rate. Depression and anxiety consumed me and made it difficult for me to keep up with all my school work. The Student Psychological Counseling Center is a resource on campus that provides students with free short-term therapy. I started seeing a therapist periodically over the semester. They were able to diagnose my depression and helped me find the right resources outside of school to continue long term psychological treatment. I am very grateful that my peers pointed me to these resources because I don't think I would have been able to succeed otherwise. First-generation students have a tendency to be fiercely independent. However, I have learned the hard way that there are some things you can't do on your own. I encourage current and future first-generation students to seek help when you need it! There is no shame in asking for help. You aren't at school just to get a degree, you are here to grow, and the faculty, staff, and administrators are here to help you with that journey.
Jenisty Colón
She/Her/Hers
B.A. Communication Studies & English Literature, Minor in Creative & Cultural Industries, 2022
Speaking on Student Organizations
As a first generation student coming to Chapman University, the one word I could describe that experience would be 'lonely.' During the first few weeks of the semester, I stood to myself and would go to class and head back to my dorm. Then, during the involvement fair, where all of the clubs on campus table in the piazza, I took a look at almost every table and signed up for the ones that caught my eye like I Am That Girl, Promising Futures Program (PFP), and Delight. While I began receiving those clubs' newsletters, I headed to their first meetings and events. From the very first meetings and events, I had met so many amazing people, some that I am still friends with till this day. I Am That Girl has given me a community of empowering women who I greatly look up to. Promising Futures gave me a community of fellow First-Gen students who share similar stories and backgrounds like me. Delight gave me a community of women who share the same faith and spiritual roots as me. In terms of my academic endeavor, Promising Futures has stood by my side through all of the ups and downs. With so many resources on campus, it is hard to get off-track with an organization like PFP. I am provided mentorship, tutoring, scholarships, and such. Overall though, all three organizations have made such an impact on me and have helped me gain a sense of identity on Chapman University's campus. Therefore, the one thing I can say to other first-generation students is to go out and find your place on campus whether that is with PFP, Delight, I Am That Girl, or with other organizations. These organizations exist for a reason and that is to give you a sense of belonging on campus so that you do not feel 'lonely.'
Danny Espiritu
She/Her/Hers
B.A. Political Science, 2020
Speaking on the Cross Cultural Center
As a first-year student, former CCC Director Leticia Romo asked me directly to apply for the position of CCC Desk Assistant. She said they were looking to hire a staff that was conscious of the diversity and cultural issues affecting our campus community. After working as a desk assistant for one year, the department merged the desk and program assistant positions, allowing me to have a hand in planning programs. Working at the CCC has provided me with the organizational and analytical tools I needed to address particular short-comings from my marginalized upbringing at a working class school. It also allowed me to enter the workforce at an angle that didn't involve the food or retail industry. I've picked up transferable skills that will help me in academics and future jobs. Additionally, being able to think critically about identity in the workplace gives me a different vantage point from the one I have in the classroom. Recognize that working at the Cross-Cultural Center is a privilege if you're coming from a working class background. This job has introduced me to networking possibilities in a way that I couldn't have imagined beforehand.
Maria Isabelle Garcia
She/Her/Hers
B.A. Psychology, 2022
Speaking on the Fish Interfaith Center
I am a part of the Disciples of Christ denomination of Christianity. As a member of this denomination, I receive a scholarship for half of tuition costs. To receive this scholarship, it is required that I spend 8 hours participating in Disciples on Campus activities during the semester. As a part of this, I am on the Disciples Leadership Board. This position includes attending programming inside the Fish Interfaith Center, such as the Interfaith Council at Chapman that meeting Friday mornings. My mentor that works in the Fish Interfaith Center helped me apply for a Docent position at the Fish Interfaith Center, which has helped me afford going to Chapman University. This means that I speak about the Fish Interfaith Center on tours, and work with programming that is hosted by or occurs at the Fish Interfaith Center. Working at the Fish Interfaith center was a great resource when I experienced food insecurity, as there is always some type of programming that includes food. They, as a community, helped me find housing, furniture, and make a plan on how to afford continuing my education at Chapman University. I have found amazing mentors that have helped me with figuring out Financial aid, Applying for scholarships, and writing letters of recommendation for jobs and other opportunities. If you are a part of Disciples of Christ or United Church of Christ, reach out to Nancy Brink! If you are not part of these denominations, come to some of the spiritually diverse programming at the Fish Interfaith Center. There is a meditation room, sound healing, and labyrinth walks! It is also a great way to meet progressive and accepting people on campus!
Victoria Gomez
She/Her/Hers
M.A. Leadership Development, 2020
Speaking on Graduate Programs
As a young child, I always had the goals of going far with my education. I wanted to earn various degrees and have a fulfilling career. A simple dream that many people have. As a first-generation student, that goal took a longer path to achieve. I received an associate's degree at a community college and a bachelor's degree at a public state school. Upon graduating with my bachelors degree I felt very unprepared to enter into the workforce and experienced imposter syndrome when it came to working a professional job. I had little mentorship on how to be professional and what to expect in different job sectors. Being a first-generation student, I didn't know what jobs were available to me, but I knew there was more out there for me. During my undergraduate career I worked at a restaurant for several years. I moved up positions and knew I was a leader within the team. Supervisors would listen to my input within the business. My coworkers would often ask for advice on how to raise their sales and streamline tasks. I knew I had a voice within this team and I knew my work was worth more with a college degree. I knew that I can use these leadership skills in other job sectors while using my degree, I just didn' know how to feel comfortable doing it. It was at this time that I revisited my goal of attending graduate school. After searching for various graduate programs and career paths, I narrowed my decision to attend Chapman University for an M.A. in Leadership Development. As I have been in the program, I also held a graduate assistantship. Working with mentors, teachers, and supervisors at Chapman University, I learned how to build confidence in my professionalism and to see myself as a working professional. Navigating a graduate program comes with the same issues and hardships that an undergraduate degree comes with, however, if you continue to build a community of support, success is more than possible. The advice I would give first-generation students looking into graduate programs is that this goal is attainable. If you are looking to pursue graduate work, don't ever feel that you lack the ability to achieve this goal. Looking into a graduate degree already denotes that you have accomplished and overcome significant achievements. Don't ever hinder yourself in your pursuits. Continue to take the things that made you successful in your undergraduate programs and build upon those resources to reach out and absorb everything available to you. It was at this time that I revisited my goal of attending graduate school. After searching for various graduate programs and career paths, I narrowed my decision to attend Chapman University for an M.A. in Leadership Development. As I have been in the program, I also held a graduate assistantship. Working with mentors, teachers, and supervisors at Chapman University, I learned how to build confidence in my professionalism and to see myself as a working professional. Navigating a graduate program comes with the same issues and hardships that an undergraduate degree comes with, however, if you continue to build a community of support, success is more than possible. The advice I would give first-generation students looking into graduate programs is that this goal is attainable. If you are looking to pursue graduate work, don't ever feel that you lack the ability to achieve this goal. Looking into a graduate degree already denotes that you have accomplished and overcome significant achievements. Don't ever hinder yourself in your pursuits. Continue to take the things that made you successful in your undergraduate programs and build upon those resources to reach out and absorb everything available to you.
Ethan Leimel
He/Him/His
B.S. in Business Administration, Minor in Data Analytics, 2023
Speaking on Finding a Job
My name is Ethan Leimel and I'm a Freshman at Chapman. Being a first gen student, I wasn't aware of a lot of the opportunities that Chapman had to offer. So, I decided to conduct my own research using Handshake and also talking to other Chapman students about clubs they were in or interested in. Handshake is a platform that shows career pathways, job opportunities, and much more helpful information about Chapman. One day I was walking to the cafeteria and saw a bunch of suits walking around. So, me being inquisitive, I asked what the occasion was. Leanna Izen, one of the career educators and enthusiasts at Chapman University, said that it was the career fair and that there was only 30 minutes left. I asked if it was worth my time… she told me to go put a suit on or anything that looks nice and go inside. So after running to my dorm and getting dressed, I went inside to catch the tail end of the event. There were rows and rows of recruiters looking to hire Chapman students. I was only able to talk to two recruiters since I got there late but each conversation was very fruitful. At first I was scared to go up to them but then I remembered that they're just people. The companies were Northwestern Mutual and American Capital Group and they each offered me an interview. I went to the Northwestern Mutual interviews (they had three) and I eventually was offered a position as a college financial advisor. However, I ended up finding a better internship opportunity elsewhere so I turned down the offer. But, the moral of the story is that if I had never tried to get involved with the larger Chapman community I never would've gotten the job interview. Chapman is full of opportunity but it's your job to take advantage of them.
Daniel "Danny" Leon-Barranco
He/Him/His
B.A. Psychology, 2022
Speaking on Financial Aid
Interacting with Financial Aid can be intimidating, for many reasons; however, remember you can always reach out to the Financial Aid offices. I, myself, had a confusing Financial Aid (Fin Aid) package and had to meet with the Financial Aid office to formally understand and break down my Fin Aid package. Sometimes things can go over your head when discussing Fin Aid. That is absolutely okay, simply ask clarifying questions to whoever is helping you. Be an advocate for yourself, assert your needs – it can help you reach someone who can further clarify for or help you. Always remember to enact self care – it can be a stressful or an anxious experience at the Financial Aid office.
Karmen Pantoja
She/Her/Hers
B.A. Political Science & Peace Studies/ Environmental Studies
Speaking on Greek Life
As a first generation student I was not really aware of what Greek Life was. I knew what I saw in movies and through Greek Life campus presence. I decided to undergo formal recruitment my freshman year. A main thing I realized was the opportunity to find a community. Joining Greek Life has been one of the most rewarding and life-changing experiences I have had at Chapman. I have met some of my best friends through Greek Life, have engaged in philanthropic work, but, most importantly, I have grown socially, professionally, and personally through this experience. I have been given a community where I can grow, continue to learn about myself, and challenge myself, all while being surrounded by motivated and amazing people. Greek Life has given me the opportunity to connect with people I probably would have not come across. This has helped me in connecting with people in my classes and outside. My organization's academic chair has put together academic resources, connected members with tutors, and continues to find ways to assist us in excelling in academics. Furthermore, organizations such as Interfraternity Council and Panhellenic put together academic resources for members of Greek Life to obtain including study halls, presentations, and connections with campus faculty and staff. Through my involvement in Greek Life I have been presented with resources I was not aware of, I have found friends to study with in and outside of my major, and continue to be motivated to do well in school from my peers. The motivation and community has led me to be on the Provost List every semester, obtain leadership positions in my organization, and be the SGA Greek Organizations Senator. My advice to any first-generation student is just because you may not fully know what Greek Life is do not let that deter you. Greek Life is an amazing place to find a community, do philanthropic work, grow, and be a part of something greater than yourself. Everyone's experience is different which makes this such a great place, where you can make it your own. Greek Life is not only four years, the relationships and experiences I have made are everlasting!
Saira Ramirez
She/Her/Hers
B.F.A in Creative Writing, 2021
Speaking on Student Psychological Services
As a Latinx and first-generation student, coming into Chapman University was an overwhelming but exciting experience. During my first semester, I was extremely anxious and way too in my head about everything. I continuously critiqued the way I spoke, the way I dressed, the way I walked. I found myself feeling intimidated and not participating in class. I cried on my drive home every day after class because I felt frustrated and mad toward myself. I felt angry that I finally was where I wanted to be my entire life, and I was allowing my self-consciousness to blind me from seeing all the great opportunities and resources in front of me to help me succeed. My first step was to put the stigma around psychological counseling to the side. Immediately, after making an appointment, I felt slightly better. I felt like I was slowly getting a sense of management in my life. Through counseling, I received affirmation and insight into my feelings. I have accomplished a lot. Not having parental guidance throughout my higher education has been a challenge—a challenge I know I can overcome. I decided to apply to be a mentee through the We CU Mentorship Program and connected to a great mentor, Yazmin Mendez. Luckily, I also have an amazing best friend, Argelia, who dragged me to speak to Gabriela Castaneda, Assistant Director in the Career Center for Argyros School of Business and Economics. I know some students are not as lucky as I am and don't have a friend to walk them to resources but, I strongly encourage students who find themselves lost or anxious to seek help from the resources on campus. Accepting my friends help opened the door to a whole new world for me at Chapman University. Gabriela Casteneda connected me to Lisette Martinez, Student Affairs Case Manager. Lissette and Gabriela are both welcoming and genuinely interested in helping students. Lisette was immediately able to help me find a solution to my housing problem and, most importantly, offered me friendship and guidance. Counseling, Gabriela, Lisette, and Yazmin encouraged me through my transitioning process. Out on a walk around the campus, Lissette introduced me to the Cross-Cultural Center, where I applied to be an assistant. I have met kind, funny, and exciting individuals like Victoria Gomez and Tim Topper, who are great leaders. I've also met people from all different kinds of backgrounds and cultures, which has enriched my interactions and experiences on campus. Building my self-confidence allowed me to interact in events held on campus. I met Jacqueline Aparicio, a graduate student, and Promising Future Program assistant coordinator as she tabled for an event. I approached her, and through our warm conversation, she encouraged me to attend the kickoff event for PFP. There I met another genuine and understanding professional, Dr. Quaylan Allen, First-Generation Programs director. Thanks to these great individuals, I can say I am part of the Chapman community. A community that has nourished my spirit and strengthen me to keep navigating through my educational path.
Azucena Rodriguez-Baltazar
She/Her/Hers
B.A. Political Science & Peace Studies, Minors in Sociology & Spanish, 2020
Speaking on Giving Back to the Community
I was born and raised in Santa Ana, California. Whenever I mention this fact everything about what makes me unique disappears and I'm automatically ousted as a member of a poor immigrant Latinx/Hispanic city. This is saddening, I am so much more… I am a first-generation college student who attends a prestigious private institution that would have only been possible in dreams. I am forever grateful for those who have helped me to accomplish all that I have until now. It has always been an objective of mine to build a career where I can help others in need. My dream job is to become an attorney and specialize in international law. I've garnered extensive intern experience in multiple law offices that have allowed me to expand on the knowledge that pertains to real life. I've been keeping myself busy with internships because of the exposure to different areas of law but also to have a potential job in the near future. Because of my interest in law, I am a point of contact in my community for legal issues and translation between English, Spanish and a tad bit of Vietnamese. It is tough work but it is rewarding to see the people that I help with either EB3 forms, immigration, asylum paperwork, civil cases, court proceedings, etc. Currently, I am an intern at a law office in Garden Grove that has international cases and it is the most exciting experience thus far which coincidentally Orange County's Superior Court is located in Santa Ana, which I am familiar with and receive exposure to all types of cases. Having immigrant parents and being a child of divorce, there are stigmas attached, they are not true markers of how I identify in fact I challenge it. I consider my success possible through hard work and sacrifice but especially being brave enough to take a chance … a chance to explore my interests and be able to give back what I can to my community even if that means just translating a legal document or attending an attorney meeting to not be facing whatever the issue alone. For those that are also considering a legal career, it is a tough road ahead but it is rewarding and you witness the impact you've made on other people's lives. Growth is witnessed but so is pain. Going to court is exciting in the films but what is forgotten is the person and what is at stake. That humbles you and it is something I never forget. Being involved in this field for so long has given me insight into how political and civil institutions function and how to better put forward the needs of the people that surround me as well as plant the seeds for change for a better future.
Jess Salgado
She/Her/Hers
B.S. in Business Administration, Minor in Leadership Studies, 2019 M.A. Leadership Development, 2020
Speaking on Travel Course/ Study Abroad
Hello, my name is Jess Salgado. I am a first generation, low-income, Chicana. I graduated from Chapman University last May 2020 with my Bachelor of Science in Business Administration with an emphasis in Management and a Leadership Studies Minor. I am currently finishing my Accelerated (4+1) Master of Arts in Leadership Development with an emphasis in Higher Education and will graduate again this year. I had the opportunity to travel abroad twice, once as an undergraduate and again as a graduate student. I had the opportunity to travel to New Orleans, Louisiana as part of my leadership studies minor class called Leadership in the Eye of the Storm. This was made possible through a generous scholarship from the Promising Future Program. I got my flight paid for and I just had to pay any extra expenses. It was an amazing experience as someone who enjoys traveling but faces financial obstacles. I am really grateful to have received help from the Promising Future Program (PFP) and would encourage any first-generation college student to ask for help from PFP. They want to help make these experiences possible. I also had the opportunity to travel abroad last year, 2019, in the summer as a graduate student. I traveled to the United Kingdom as part of my graduate course called Leadership in International Contexts. We visited Oxford, Bristol, and London in the United Kingdom. I even had the opportunity to travel to Bath, Brighton, Stonehenge, and Salisbury in England and Paris, France thanks to my mother who encouraged me to explore more places even though I thought she would not let me. Going to the United Kingdom and Europe was my dream as a child and I am happy that I had the support from my family, loved ones, and professors to do so. It was unbelievable. I have grown so much as a first-generation student thanks to these experiences. My family and I had never visited another country besides Mexico. I was the first in my family to visit the outside world of North America. As a first-generation student, sometimes things and places that are foreign to us seem scary to visit. However, I learned to let go of the fear of traveling alone and take risks that I am comfortable in taking. This is something that I would recommend all first-generation students to do. Take the risks that you are comfortable taking, ask for support from your loved ones, family, and professors, and most importantly, if you have the opportunity to do so, travel. Life is an adventure and you will not believe what is outside of your comfortable space.
Kayla Velasquez
She/Her/Hers
BFA Television Writing & Production, 2021
Speaking on Transferring
It has taken me a lot of work and years of attending community college with uncertainty about my future to get to where I am now. I hadn't realized how unprepared I was for the difficulty of even applying to Chapman University. As a first-generation transfer student, no one in my family had the experience of writing application essays or knowledge of resources I could go to for help. That first time applying to colleges, I got rejected from all the schools where I'd applied. Instead of giving up, I used this as a learning experience. To avoid making the same mistakes, I sought out resources to see how I could improve. The first resource I found was the transfer counselor at Chapman. When I met with them, they reviewed my previous application and gave me feedback for strengthening my application. Equipped with more knowledge, I worked on improving my writing and I reached out to friends who have attended universities for help editing my essays and application advice. By the end of that second try, I was not only accepted but also earned a merit scholarship. My first year as a transfer student at Chapman, I was determined to get the most out of my education and realized that I couldn't do it alone. Still, it felt difficult to find where I could fit into the campus community when my path seemed so different from those around me. I was excited when I learned about the Promising Futures Program because I hoped to find others that shared my experiences and feelings as a first-generation college student. After I attended an event in which first-generation staff and students shared their college experiences, I felt immediately welcomed and knew I had found my community at Chapman. Although everyone's journey was different, it felt like we all understood exactly what the other had gone through. Throughout the event, I heard so many stories that I related to because I also know the struggle of not having someone to point the way and working hard to make your family proud. After getting more involved in the Promising Futures Program, my newfound community helped remind me that my journey not only makes me unique, but also gives me a better capability to handle and adapt to all the stresses that higher education could throw my way. The best advice I would give other first-generation students is find your people and don't be afraid to ask for help. It can seem obvious to some and terrifying for others but learning to utilize campus resources and who to go to for help has really allowed me to thrive at Chapman. The Promising Futures Program in particular has shown me how much people want to help others, so don't let yourself fall into the trap of feeling like a burden on someone for asking questions. As much as we want to pride ourselves on accomplishing things on our own, a person is always stronger with a community behind them.
Nicole Williams
She/Her/Hers
B.A. Psychology & Integrated Educational Studies, Minor in Spanish, 2020
Speaking on Honor Societies
My name is Nicole and I am a recent graduate of Chapman! Before starting college, I was interested in honor societies, but I wasn't quite sure what to expect. Fortunately, after much hard work and determination, I received notifications that I academically qualified to join an honor society which would allow me to connect with a larger network of people in a specific field. I'm grateful now to be a part of several honors societies pertaining to my interests: Psi Chi (Psychology), Kappa Delta Pi (Education), Sigma Delta Pi (Spanish), the National Society of Leadership and Success (NSLS), and Phi Beta Kappa. One of the main reasons why I accepted my membership to these organizations is because I was eager to find other people who were passionate about the topics that I cared so deeply about. For example, I am interested in exploring subjects related to identity, self-concepts, language acquisition, second language learning, and dual immersion schooling. I particularly enjoy being a member of these organizations because I have access to professional resources, including peer-reviewed journals and experts in the field. I am proud to say that I am a member because it inspires me to make a mark in my field and contribute to each society. For any first-generation college student that is interested in joining an honor society, my advice would be to tap into that resilient mentality that we have and find your passion. These organizations are a great opportunity to meet like-minded, motivated people. Just keep in mind, acceptance into honor societies is dependent on maintaining a specific GPA, so it also functions as an incentive to continue to succeed academically!