»

The 20th Anniversary of the George L. Argyros College of Business and Economics
The Chapman University School of Business was founded in 1974, but in 1999 we officially became the George L. Argyros School of Business and Economics as a result of a transformational gift from the Class of 1959 Alumnus, the Honorable George L. Argyros and his wife Julianne. In September 2023, the school tranformed in a college to further support it's growth at Chapman University. The official name of is the Argyros College of Business and Economics
Over the past twenty years, Julianne and George have transformed the educational landscape at Chapman University through their visionary leadership and generosity. The Argyros College's enrollment has tripled. More than 9,000 graduates now carry the Argyros name. Faculty includes Nobel Laureates, internationally-acclaimed scholars, researchers and titans of industry. Thanks to Julianne and George, today, the Argyros College is ranked among the Top 100 business schools in the world.
A dinner in celebration of our 20 Years of Entrepreneurial Excellence took place on October 9, 2019 with the 43rd President of the United States, George W. Bush.

The Honorable George L. Argyros '59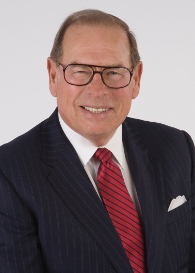 The Honorable George L. Argyros served as the United States Ambassador to the Kingdom of Spain and Principality of Andorra from November 2001 to November 2004.
Born in Detroit, Michigan and raised in Pasadena, California, Ambassador Argyros graduated from Chapman University in 1959 with a major in Business and Economics. He and his wife, Julia, have been married for 56 years and have three grown children and eight grandchildren.
Read more about Ambassador Argyros
Distinguished Speaker Series 2018-2019
Brexit: A Conversation About International Economics with Nigel Farage, British politician, broadcaster and political analyst; co-founder and former leader of the UK Independence Party.
Presented in partnership with The Center for the Study of War and Society
Friday, October 26, 2018
Learn more about Nigel Farage
A Conversation about Sports Leadership with Jeanie Buss, Chief Executive Officer, Los Angeles Lakers
Presented in partnership with Dale E. Fowler School of Law
Tuesday, February 5, 2019
Learn more about Jeanie Buss
A Conversation about International Relations and Leadership with Andrew Card, White House Chief of Staff under President George W. Bush and Secretary of Transportation under President George H.W. Bush
Wednesday, March 6, 2019
Learn more about Andrew Card
Growth of the Argyros School
The Argyros College has seen tremendous growth in the past 20 years. In 1999, the Argyros College featured 20 full-time faculty, who published 9 articles in academic journals. Today, there are 80 full-time faculty and they publish nearly 100 academic journal articles.
The 1999 graduating class consisted of 179 students, while more than 700 will graduate from the Argyros College in 2019.
Worldwide Rankings
The Argyros College of Business and Economics currently holds the following rankings:
2nd in the world in Experimental Economics
34th in the nation and 1st in California for undergraduate business programs
73rd best full time MBA in the United States
16th in employer satisfaction with ASBE undergraduates
Research Centers Launched
During the last 20 years the Argyros College faculty have built on the momentum sparked by George and Julia Argyros by launching several centers and institutes and expanding student services, such as:
Economic Science Institute, which is led by Nobel laureate Vernon Smith, Ph.D.
Leatherby Center for Entrepreneurship and Business Ethics & the Launch Labs
C. Larry Hoag Center for Real Estate and Finance
Sims Shen Data Analytics Lab
Janes Financial Center
Institute for the Study of Religion, Economics and Society
Smith Institute for Political Economy and Philosophy
Career Services Center & Office of Graduate and Executive Education
Plan for Growth
The Argyros College's expanded scope and increased impact is highlighted by its distinctive combination of outstanding faculty, influential business leaders and dedicated alumni working together to provide unparalleled individualized attention to students. Plans to build on this incredible track record of growth and success include:
The launch of an elite master's program in real estate, establishing the Argyros Colleges as a national leader in real estate research and education
Expansion of scholarships to enroll America's next leaders
Attract additional nationally acclaimed professors in finance, accounting and strategy
Continue engaging alumni through an expansion of our social media presence and showcasing faculty research