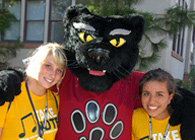 A Chapman University education is more than preparation for graduation day. In the diverse programs that comprise Wilkinson College, students begin living their future before they graduate. In the Wilkinson College tradition, that means students learn how to make a difference in the world around them. Through the guidance of committed faculty, students learn in classrooms and laboratories as well as through internships and community service. Before leaving the university, they begin their lives as informed, engaged citizens.
Wilkinson's distinguished faculty is composed of active scholars who are renowned nationally and internationally for their academic excellence and contribution to knowledge. But just as important, they are also enthusiastic teachers who take seriously their responsibility of ensuring that our students, whether majors, minors, or graduate students, are prepared for the intellectual, ethical, and professional challenges that a rapidly changing world is going to present. Our college is focused on providing a well-rounded education with programs and majors in:
Wilkinson College invites you to join our vibrant intellectual community, where collaborative student-faculty research, internships, community service, travel courses and study abroad, student organizations, and several lecture series extend learning beyond the classroom.