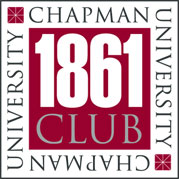 The 1861 Club was established in honor of Chapman University's founding year. On March 4, 1861, Hesperian College opened its doors at the very hour of Abraham Lincoln's inauguration as the 16th president of the United States.  150 years later, Chapman University is thriving and our future is full of endless possibilities for discovery and innovation. 
We're inviting the entire Chapman community to be a part of the university's past, present and future by joining the 1861 Club.  Becoming a member is simple: make a contribution to the Chapman Fund in a denomination that commemorates our founding year, 1861, or any amount you choose. Whether it's $18.61, $181.60 or $1,861, every gift goes a long way toward enhancing the Chapman experience for each and every student.  You can also do a monthly payment plan, such as $186.10 per month.
Gifts to the Chapman Fund keep the university's remarkable vision moving forward by supporting a broad array of needs including scholarships, faculty excellence, student opportunities and campus renovation and maintenance. 
It's up to us - students, alumni, parents, friends, neighbors, staff and faculty – to set the stage for the next 150 years and ensure a bright and prosperous future for Chapman University for generations to come.
Make your gift and celebrate 150 years of educational excellence by joining the 1861 Club today!
1861 Club members who donate $1,000 or more will also receive President's Circle benefits.