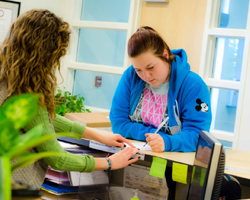 On-Campus Student Employment
As part of the Human Resources Department, Student Employment Services is committed to working strategically with university departments to identify and support existing and evolving university initiatives related to student employment. We will provide services to hiring supervisors and students to support the recruitment and selection process for on-campus positions, both federal work study and university funded employment. Our goal is to enhance students' experiential education through hands-on learning and work experiences in order to prepare them for post undergraduate and graduate career endeavors.
Equal Employment Opportunity Policy
Chapman University is an equal opportunity employer committed to fostering a diverse and inclusive academic global community. The University is dedicated to enhancing diversity and inclusion in all aspects of recruitment and employment. All qualified applicants will receive consideration for employment without regard to race, color, religion, age, sex, sexual orientation, gender identity, gender expression, national origin, ancestry, citizenship status, physical disability, mental disability, medical condition, military and veteran status, marital status, pregnancy, genetic information or any other characteristic protected by state or federal law. The University is committed to achieving a diverse faculty and staff and encourages members of underrepresented groups to apply.