»

How to Apply - B.A. in Dance
Follow the

Chapman application process

and submit your Common Application. We encourage you to apply as early as possible.

Submit your Creative Supplement and Pre-Screen Requirements on your Application Status Page. You'll get access to your Application Status Page within 48 hours of submitting the Common Application!

Wait. (This is when we'll review your application and materials. We also may invite you to an in-person interview/audition during this time.)

Receive your final admission decision.
All first-year and transfer students must apply to the B.A. in Dance program. Only current Dance students can apply to the B.F.A. in Dance Performance program or Dance minor.
Creative Supplement and Pre-Screen Requirements
The following items must be submitted through your Application Status Page to complete your application to the B.A. Dance major
:
Creative Supplement
Dance Resume
This should include your training, teachers, performance and technical experience. Include the names of dance directors and choreographers you have worked with, as well as any media work you have done. You may want to include awards and any summer scholarships you have received.
Photograph
Please upload a photo of yourself so we can identify you; professional headshots are not required.
Letter of Recommendation
The letter should come from your most recent dance instructor or a professional you've studied with. You can request this recommendation through your Application Status Page once you have access to the page . Your recommender will receive an email prompting him or her to submit a recommendation on your behalf. This letter of recommendation is specific to the Department of Dance; you'll also need to submit a separate letter of recommendation to the Office of Admission.
Pre-Screen Audition Videos
Your pre-screen audition videos should consist of a brief introduction and dance solo performance. We'll evaluate your technical prowess, presence, musicality, expression and performance quality to determine your eligibility for a talent scholarship. 
Introduction Video: In 60 seconds or less, state your name, tell us where you're from and outline your performing experience. Please address why you want to attend Chapman. Be sure to use a medium shot (from chest up).

Dance Audition Video: Prepare a two-minute dance solo demonstrating your dance technique and artistry. It may be choreographed by you or for you (please be sure to credit the choreographer). If you have skills in more than one dance form (jazz, modern, ballet, tap, etc.), you may present two separate one-minute pieces to demonstrate your talent.
Application Deadlines
To view deadlines, please visit the appropriate How to Apply page:
In-Person Auditions (By Invitation Only)
Select applicants will be asked to audition in person. If you are asked to audition in person, you will be notified via email with a link to schedule the audition. You will have the option to choose an audition date, time and location. The date, time and location, as well as any additional instructions, will be included with your emailed invitation. Auditions invitations are only sent after review of your pre-screen audition upload
Pre-screen auditions are reviewed on a rolling basis. That means the earlier you apply, the earlier you'll hear back. Please be patient in hearing back from both the Department of Dance and the Office of Admission. 
Note: If you are invited to audition but are unable to come to campus, you may request that we use your online submission as your audition. If possible, auditioning in person is highly encouraged.
Talent Awards
Talent Awards are scholarships that we award to recognize outstanding talent, skill and dedication.
Talent Award funding is determined by the department during review of the Creative Supplement, Pre-Screen Requirements and audition. No additional paperwork or scholarship application is required.
Contact the Department of Dance
---
College of Performing Arts Blog
---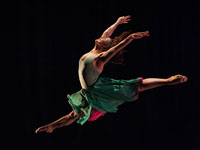 Get the latest info on the people (students, alumni, faculty, guests) and productions that make our school shine.