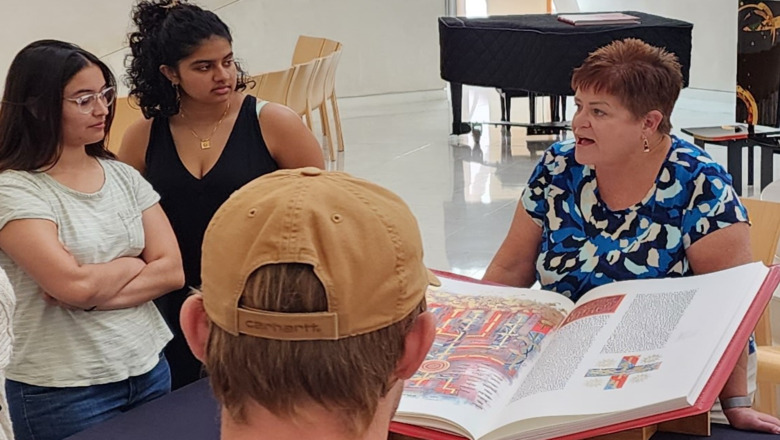 »

Christian Life at Chapman
Events and Resources
The Fish Interfaith Center offers programming for various Christian denominations and traditions, including Wednesday Night Worship (Disciples on Campus), Catholic Mass, LDSSA, and more.
Wednesday Night Worship
Wednesday Night Worship

Wednesdays at 5pm PT
Wallace All Faiths Chapel, Fish Interfaith Center

Disciples on Campus sponsored gathering meets Wednesdays at 5 pm PT. Open to all students, particularly Christian students who are attracted to an understanding of Christianity that is more progressive socially and politically, taking the Bible seriously, but not literally.  


Open to Chapman Students
For questions email payuyo@chapman.edu 
Catholic Mass
Catholic Mass
Wednesdays at noon 
Wallace All Faiths Chapel, Fish Interfaith Center

The Newman Catholic Fellowship student group will continue celebrating their weekly masses with Fr. Rafael Luevano on Wednesdays at noon in the Wallace All Faiths Chapel in the Fish Interfaith Center
Open to Chapman Students
For questions email ecimino@chapman.edu
Q Spirit
Q Spirit
Fridays
12:15 to 1:15 pm
Peterson Conference Room, Fish Interfaith Center
Sept 9 & 23
October 7 & 21
Nov 4 & 18
Dec 2
Led by Rev. Nancy Brink and Chris Graycon. Students who identify as being part of the queer community are invited to this monthly support group. Goals: To explor the struggles that arise from being part of a religious group and being queer; to address the trauma experienced by members of the queer community at the hands of religion; to explore the ways one's spirtual life can bring resilience and strength to your life; to experience support and validation in an affirming queer environment 

Open to Chapman Students
For questions email brink@chapman.edu 
Centering Prayer
Connecting with God: Growing with Centering Prayer 
Wednesdays 12 to 1PM PST on Zoom
People of faith are taught that they should talk to God. But what about listening for God? Rev. Nancy Brink will be teaching centering prayer, a meditation practice that is particularly relevant today. Each week will include a very brief teaching, a group practice of centering prayer, and then time for sharing, questions, and community building.

Open to Chapman Students

Join the Meeting Here
Student Groups
Disciples on Campus
Disciples on Campus has been the Christian Church and United Church of Christ student ministry at Chapman University since 1987. This group is nurtured by the staff of Church Relations and has student leadership that plans its activities, worship, and trips.
DOC, as it is known on campus, creates community in the following ways:
Weekly worship on Wednesday nights, planned and led by students and open to other progressive Christian students on campus
Special events at the beginning of semesters and at the close of the year, welcoming new students and blessing those completing their Chapman years
Service projects that care for people, the environment, support Chapman University, and make connections between students and our donors
Trips to regional and conference meetings, as well as General Assembly and General Synod, to help recruit high school students and experience the church in its larger context
Education/mission opportunities that not only count toward a diploma, but offer a global  experience that enhances their classroom education and sense of connection to the church
Pastoral and spiritual support from their fellow students as well as the staff of Church Relations
Retreats each semester not only deepen students' understanding of a particular topic, but builds community and lets students have fun together
Find out more about DOC activities and scholarships here!
Newman Catholic Fellowship
The Newman Catholic Fellowship (NCF) is an organization of students that promote the Catholic faith and community at Chapman University while spreading the Gospel of Jesus Christ and serving others. The Holy Bible and the Traditions of the Church are the main tools used to spread the Word of Christ. We meet to grow and learn about our faith, and build lasting friendships through discussion groups and celebration of the holy mass. We welcome all people!
Latter Day Saint Student Association
Chapman's LDSSA is here to help members and friends of the Church of Jesus Christ of Latter-day Saints succeed in their studies, coordinate Church-related activities, achieve a balanced educational-social life, and be a powerful influence for good.

InterVarsity Grad
For questions, reach out to Joseph Lim! joselim@chapman.edu
Upcoming Events for Christian Life on Campus!