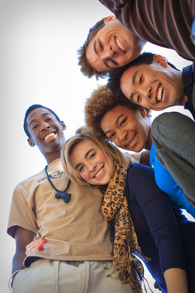 Provides students an opportunity to explore an area of interest from an inter/multidisciplinary focus of four related courses outside the student's designated degree program or major. At least two courses in the cluster must be upper division. A student completing a second major or a minor fulfills this requirement.  
The GE program encourages students to form contexts for learning. A cluster—a group of content-related courses--enables you to gain depth in an area outside of your major program.  
Inter/Multidisciplinary clusters let you study one disciplinary subject in depth or one topic from several disciplinary approaches. The "multidisciplinary" approach lets you develop some expertise in an area outside your major program. The "interdisciplinary" approach lets you study an area or topic from several different disciplinary perspectives. In either case, the effect is breadth of learning as well as depth of knowledge.  
Note that some cluster courses are also approved in shared inquiry categories. You can take a shared inquiry course to find out if the topic is one you'd like to pursue as a cluster, minor, major, or second major. If it is, you can choose to apply the course as part of the cluster, minor, or major. You would then complete a new shared inquiry course. You can explore new areas of learning and afterward decide to develop more knowledge in that area without losing the breadth of learning that is a central GE goal.  
Many clusters are designed to lead into a minor or second major in the subject area, giving you another opportunity to develop an area of knowledge in addition to your primary major.  
Students complete a total of 12 credits in a course cluster outside their designated degree program or major. Review the available inter/multidisciplinary clusters, developed by Chapman faculty within and across departments and units, to explore the topics and approaches that interest you. You must declare your cluster officially through the University's Office of the Registrar. To do so, go to the "Undergraduate Forms" list on the Registrar's web site and select "Inter/Multidisciplinary Cluster".  
Click on the following categories to see your course cluster choices. The information is in PDF format. Use WebAdvisor to see which classes will be offered in the coming term. Prerequisites for courses in each cluster are indicated in brackets in the cluster course lists, but these are subject to change. Please check WebAdvisor for the most current prerequisite for a given course.